I don't know about you, but I'm finding it damn depressing pulling into the gas station every week to fill up. The prices keep climbing, the patrons get skeezier & the windshield washer is always nasty
My car is 9 years old and I love it, it's a Volkswagen and gets decent mileage, but I'm always looking for ways to save money on gas. Here are a few tips I've learned over the years that can help you reduce your gas costs and keep more money in your pocket.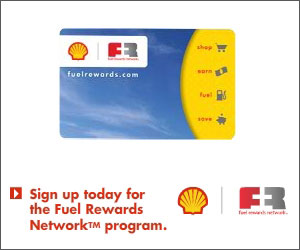 1. Rewards Programs – Companies like Shell Gas offering a program called Shell Fuel Rewards. You use the card at participating groceries and other retailers and earn points each time you make a purchase. Then you can redeem those points for instant savings at the pump. All you do is swipe your Shell Fuel Rewards before pumping gas and you can watch the savings instantly!
2. A Steady Foot Will Save you Money – Does this sound like you? Speed up, braaaake, Speed up again….braaakke again? This style of driving can actually be bad for your gas consumption. Your vehicle uses the most gas when it has to speed up or accelerate.  So the name of the game is to actually keep a steady pace and a good distance between you and the car in front of you so you don't have to brake and accelerate often. If you happen to be driving on a highway, cruise control will be your best friend for this reason.
3. Turn off your Air Conditioner – I know that the thought of turning off your air conditioner in the hot summer heat, can make you break into sweat just in itself, but your car's air conditioner can actually be costing you gas. When an air conditioner is running, it causes your car's motor to work extra hard, which makes your car use more gas. Some of the ways you can actually make your car cooler, are to park in the shade, and roll down your windows to create a little air circulation in the vehicle. (If you have to, wear one of these
)
4. Carpooling – Carpooling can be fun, think of it as a morning party
Each morning a bunch of us moms have to trek up the hill to make sure our kids get on the bus and what it's turned into a is a nice opportunity to have a mom party each morning and catch up with each other's lives. If you can find some friendly co-workers or friends you can share the commute, cost of gas and get your day started in a friendly and happy manner.
5. Hybrid cars – Hybrid cars are all the rage right now and it seems like every celebrity is bouncing around Hollywood in their Toyota Prius, but guess what….these cars are actually very gas efficient.
Do you have any tips on how to save money on gas? Leave a comment!