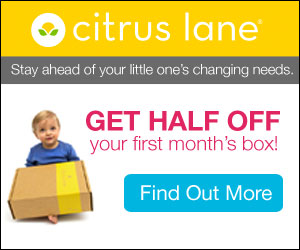 If you love surprises and trying out new products, then you are going to love this deal! Citrus Lane is offering a box of baby products & goodies for only $12.50 + FREE Shipping when you use coupon code TAKEHALF. That's a savings of 50%! In this box you can expect to get an assortment of baby care products, books, toys, etc. It's like a little mystery box of goodies!

If you are expecting a little one or know someone who is, this is a great opportunity to give them a few fun gifts! Here are just a few of the boxes that I've received from Citrus Lane. I love their service so much that even after I took advantage of their 50% off sale, I stayed on as a customer :)
Please note: This is a subscription service, however you can cancel at anytime. It's definitely worth it to sign up, get your one box and decide if you like it. If not, just cancel your account. No further obligation is required.