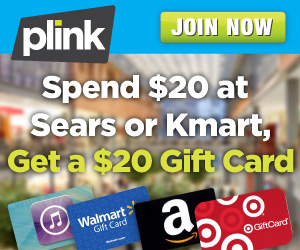 Who doesn't love FREE stuff? If you sign up for Plink today, and make a minimum $20 purchase at Sears or Kmart by Sunday, 5/19 11:59 EST, Plink will give you 2,000 Plink Points – enough to redeem for a $20 Gift Card of your choice at places like Amazon.com, Target, Walmart, Kohls, Starbucks and more!
Plink is a program that rewards you for eating out& shopping . Essentially you sign up and hook up one of your credit or debit cards. Each time you make a purchase at one of the participating restaurants, with one of the cards, you will receive points!
This is a limited time offer, so sign up now and get over to Sears or Kmart to start earning points!