I just ordered these super cute fleece leggings! They are currently on sale for just $6.99 (down from $19.99) and shipping is just $3.50. Head on over here to get yours before they sell out!
These Solid Fleece Lined Leggings bring you the warmth, thickness, and comfort of your favorite lounge pants with the flattering fit and slimming effect of leggings! They feature an ultra-soft and plush fleece lining with a wide waistband that sits comfortably just below your natural waist. These leggings are made of a higher quality nylon material, and will hold up better and longer than your other polyester fleece leggings. At just 6.99, you may want to pick up one in every color!
7 Colors Available:
Navy
Black
Wine
Charcoal
Coffee
Olive
Forest
Now before you go spending some mucho bucks this weekend, I wanted to let you know that Ibotta now works at Toys R' Us & Babies R' Us! You can earn $5.00 back when you spend $100 at either store!
All you have to do is
make a purchase of $100 or more at either store
and then
upload your receipt to the Ibotta Mobile app
! You'll earn a sweet $5.00 and be able to transfer that cash right over to your Paypal account!
If your kids are like mine, and have way to many toys, you may want to consider getting them this set of Disney books for Christmas instead! You can get (4) Disney Hardcover books for only $.99 cents each + a bonus Disney wall calendar.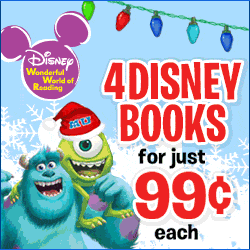 I picked up this deal previously for my daughter, and she loves it when I read these books to her. (Here are the ones we got)
All you have to do is sign up and choose which 4 books you'd like to receive, then pay $3.98 for the 4 books & a wall calendar. Then you can choose to continue your membership and get books each month or cancel the subscription before the next shipment goes out. I chose to cancel my membership after the first shipment and it was super easy to do so!
If you need to stock up on batteries for all those holiday toys, here's your chance!  Get a 30 pack of AA or AAA heavy duty batteries for only $2.99 plus $2.99 shipping!  That's just $5.98 total for 30 batteries! This deal is one of Tanga's most popular deals, and it does not come around too often, so grab it – Today Only!
Run on over to Tanga and check out this hot deal on Pee Wee Pillow Pets!  Get your choice of 6 designs for only $7.99 with FREE shipping! This price is good today only (12/6), so hurry!
Have a Pei Wei nearby? You can get a B1G1 FREE entree coupon valid through 12/15/2013! Just take the short quiz to get yours, and the BOGO offer will be emailed to you within one business day. Entrees at Pei Wei starts at less than $10, so this would make for an affordable night out!
Jane.com is offering these Beaded Wrap Bracelets for just $7.99 with $2.99 for the first item and $0.50 for each additional item! These completely sold out in less than a day last time!
Our Beaded Wrap Bracelets are an adorable addition to any outfit! Wear them one at a time, stacked together, or even paired with a watch or other bracelets. They will be super cute however you choose to wear them! Each bracelet measures 26" long. The bracelet will wrap around most wrists 3 times. Made with high-quality memory wire and beautifully colored beads. The no-clasp wrap = easy style upgrade! Colors:
Black
Pewter
Red
Bright White
Vintage Vanilla
It's Fashion Friday over here at I Love To Gossip, and Cents of Style is offering these Custom State Necklaces for just $11.95 and FREE SHIPPING with the code HOMESTATE. A perfect gift for those close and far from home this Holiday season!
The necklace is a metal alloy in brushed silver. It has an 18″ chain with a 3″ extender. The pendant is the outline of each state and has a contrasting brushed gold heart charm, as well. Each necklace comes in its own custom designed Cents of Style envelope with string and button closure.
Groupon has this cute GigaBot Remote Control Robot priced at only $19.99 + FREE Shipping! Over 1,000 people have bought it! Looks like a super popular item for the little gadget pro in your home!
Using a remote control, kids take command of the GigaBot, a robot that can move and spin into position to fire foam discs at a condemned house of cards slated to be replaced with a Jenga skyscraper. LED lights and sound effects add additional excitement to play time, and the robot's front sensors detect obstacles automatically to avoid collision.
Remote-controlled robot
Moves forward and spins
Fires foam discs
Movable arms
LED lights
Sound effects
Front sensors detect obstacles
Requires 6 AA batteries (not included)
Weight: 2 lb.
We've got 12 new P&G printable coupons available..and I'm loving them, because several of them will be great doublers! And I love that! Print them while you can, as with all coupons, you never know how long they'll be around for!

$1.00 off ONE Vicks product
$2.00 off ONE Prilosec OTC product
$1.00 off ONE Metamucil product
$1.00 off ONE ZzzQuil™ product
$0.45 off ONE Cascade product
$1.50 off Swiffer Sweeper or Duster Starter Kit
$0.50 off ONE Puffs 3ct or larger
$0.50 off ONE Always Pad 12ct or higher
$1.00 off Gillette Anti-Perspirant or Body Wash
$2.00 off ONE Pampers Easy Ups Trainers
$1.50 off 2 Tampax Pearl, Active, Radiant Tampons
$0.50 off Tampax Pearl, Active or Radiant™ Tampon