Click on the banner above to get offer!
Yay :) This awesome frebie deal is BACK! You can get a new Secret Clinical Strength Deodorant, a coupon for a second stick, Free P&G coupons and a free sample of Olay Fresh Effects (facial cleanser) for $4.99 shipped! That's a great deal considering the price of Secret Clinical Deodorant is around $10 by itself!
Hurry and snag it before it's gone!
If your little one is on the naughty side these days, remind them that Santa and his elves are watching with this Naughty List Warning Letter printable, on sale for just $1.50 (reg. $3)! Just go here and scroll down till you see the image above an click on it to get yours :)
This is a digital download that will contain a PDF of the images shown but without the blue text. That was placed just to give you ideas of how to implement.
The PDF is 8.5 x 11 and ready for printing immediately after downloading.
Here is a fantastic deal on Country Living magazine! You can pick it up today for just $5.99 per year. The cover price is $42, so you are saving a bundle!  Use code GOSSIP at checkout to get the discount. Offer ends at midnight 12/10.
About this magazine: Country Living Magazine is edited for readers who appreciate the traditions of the country, wherever they may live. Each issue of Country Living Magazine brings a country approach to a wide range of topics, from decorating, building, and restoring old homes to cooking, entertaining, gardening, travel and more.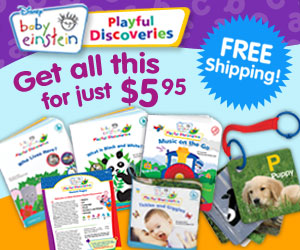 When my son, Baz was a baby he was in LOVE with Baby Einstein videos, toys and books! Right now you can score a Baby Einstein Book Bundle for only $5.95! This bundle includes everything you need to educate and entertain your little one! The best part is that there is NO commitment and you can cancel at anytime!
The Baby Einstein Welcome package includes 3 board books and 1 plush book, discovery cards with an attachable ring for only $5.95.
- Bonus book 50% Off: Jumbo board book, Baby's First Words
- Receive a parent page with tips on how to introduce your baby to language, music, animals, nature and art.
- Make connections between images in the book and in the real world.
- Create lasting memories while developing a life-long love of reading.
- Shipping is FREE!
- Control your membership online.
- Risk free. Cancel anytime with NO purchase commitment!
Calling all Toms fans, we've got ourselves a super deal right now! You can save a whopping 20% off + get free shipping by using coupon code: LOVEYOU2. Coupon code is valid now through 12/13!

Remember ladies, if you wear a size 6 – 8 you can probably get away with ordering a 4-6 in kids sizes and save some money!
Tanga has a hot deal for you!  Right now, you can get a Thomas the Train 18 Inch Pillow Pet for only $14.99 with free shipping!  That's an awesome price, so you might want to snag it while you can!
I know it's hard to improve on the family favorite of Rice Krispie squares, but the kids and I made these Rice Krispie Wreaths and OMG, are they good..but very sweet! :) They were very simple to make, the only thing you want to make sure of is that you have some Pam spray or something to grease your hands up with..otherwise it's a sticky mess!
Ingredients:
3 tablespoons butter or margarine
1 package (10 oz., about 40) regular marshmallows
6 cups Kellogg's® Rice Krispies® cereal
8 Squares Almond Bark
1/2 cup Coconut Flakes
Cake Decorations (Sprinkles, Cinnamon Hots, etc)
Secret word = FriskyKrispie


Directions:

1. Melt Butter & Marshmallows in pot.
2. Add Rice Krispies to melted mixture.
3. Use Pam to grease your hands ( you'll thank me later)
4. Form wreaths using the Rice Krispie mixture
5. Refrigerate wreaths for at least 30 mins
6. Melt Almond Bark in double boiler or microwave
7. Add coconut to melted mixture and stir
8. Dip hardened rice krispie wreaths in melted almond bark
9. Decorate wreaths
Where are my Dunkin Donuts fans?? You are going to be psyched to hear that the Ibotta Mobile App now works at Dunkin Donuts! Right now they are offering $1.00 cash back when you spend $10 at DDs :) The $10 can be spent in one transaction or multiple transactions. Just make sure to keep your receipts because you'll have to upload them to get your money!
If you haven't already, download the Ibotta mobile app and start saving at dozens of stores and now Dunkin Donuts!
Calling all hot mommas! We can grab ourselves a nice deal on flirty aprons! Now through tomorrow 12/11, Flirty Aprons are 50% + FREE Shipping with coupon code: HOLIDAY50. That makes them about $15 bucks a piece! Which is a great deal…because regular aprons are just not flirty enough for me ;)
P.S. Just because we have an apron on, doesn't mean we have to cook, right?
Green Monday HOLIDAY APRON SALE: Save 50% and get FREE shipping on 2 Awesome Christmas Aprons, code HOLIDAY50, valid til Wednesday
HSN currently has the SodaStream Fountain Jet 14-piece Soda Maker Bundle priced at $89.95 + you can submit for this $25 SodaStream Rebate, which makes the price only $64.95 after rebate! That's a great price for this bundle especially since it includes the CO2 canister, 4 Carbonating bottles, and 8 drink mixes!
What You Get
SodaStream Soda Maker
3 oz. CO2 carbonating canister
1-liter carbonating bottle - Black
1-liter carbonating bottle - Gray
1/2-liter carbonating bottle - Orange
1/2-liter carbonating bottle - Green
16.9 fl. oz. Country Time Lemonade mix
16.9 fl. oz. Diet Cola mix
16.9 fl. oz. Ocean Spray Cranberry-Raspberry mix
16.9 fl. oz. Orange soda mix
16.9 fl. oz. Strawberry soda mix
16.9 fl. oz. "Surprise" Happy Hour mix
1.69 fl. oz. Diet Pink Grapefruit Soda Cap
1.69 fl. oz. Orange Soda Cap
User's manual
Manufacturer's 2-year limited warranty