So far this holiday season, I"ve lost a lot of sleep over Walmart! Their dang Pre-Black Friday Sales, Prices glitches & Cyber Monday deals have cost me some serious sleep..but do you think I care, HELL NO! :) Bring on the deals!
The good news is Walmart is preparing for yet ANOTHER game changing Post-Black Friday sale starting tomorrow, 12/13 at 8am! (Read the press release here)
Some of the highlights include:
Electronics:
Apple iPad® mini Wi-Fi 16GB (two colors) – $299 with a $50 Walmart gift card
iPhone 5c ($27) and 5s ($127) – requires a two-year contract from AT&T or Verizon
Select video games such as Call of Duty Ghosts, Battlefield 4, Assassin's Creed Black Flag, Grand Theft Auto 5 and NBA2K14  (for Xbox 360 and PlayStation 3) – $39.96 ($20 savings) – also available on Walmart.com
Monster headphones – $79.95 ($50 savings) – also available on Walmart.com
Vizio 70-inch LED Smart HDTV – $1,498 ($200 savings) – also available on Walmart.com
Toys:
Holiday Barbie – $29 ($10.97 savings) – also available on Walmart.com
Furby Boom! – $39 ($20 savings)
Innotab 3 – $39.97 ($20 savings) – also available on Walmart.com
Sofia the First Desk – $54 ($15.97 savings) – also available on Walmart.com
And More:
Men's Fleece / Flannel Sleep Pants – $7.83 ($2.09 savings) – also available on Walmart.com
Ladies 2-piece Pajamas Set – $12 (special buy) – also available on Walmart.com
Better Homes and Gardens 700-Thread Count Sheets – $24.96 (special buy) – also available on Walmart.com
iTunes gift card – $25 for a $30 gift card ($5 savings)
Large Tables Games including an 89-inch Billiard Table – $239 ($58 savings) – also available on Walmart.com
Starting Sunday, CVS will have Chex Mix on sale for $2.00 a bag + a $2.00 ECB wyb 3. You can use the $.50/1 Chex Mix printable coupon and pick them up for only $.83 per bag! These really do make some nice snacks for when relatives are over! I highly recommend the Turtle Chex Mix! :)
Buy (3) Chex Mix $2.00
Use (3) $.50/1 Chex Mix printable coupon (Will need two computers)
Pay $4.50 & Receive $2.00 ECB
Final Price = $.83 each!
If your little one likes to sing, I have a fabulous gift idea for you – pick up the Little Virtuoso Sing-Along CD Player at Walmart.com for just $19! And, you can get FREE in-store pickup with site-to-store shipping! This is selling for around $48 on other websites, so you're getting a HOT deal!
You can get this in red or pink, so there's a color for every kid!
The Details:
The Little Virtuoso Sing-Along CD Player is an incredibly fun home karaoke system that encourages kids to sing! It comes with dual detachable mics for a complete karaoke experience, so kids can pair up with friends and croon their favorite duet. Boasting a CD player, two microphones, and hi-fi speakers, this starter home karaoke system will get the party started. This CD player for kids also comes with a built in CD case holder for added convenience. It plays sing-along CDs, so you can find the music your kids already love — and teach them how to sing it! The supplied speakers render clean voice output for kids to enjoy. Kids love singing and dancing along to music, so why not introduce them to the Sing-Along CD? It has everything they need to get engaged in musical play and start singin'.
Anti-skip, sing-along CD player with microphone
Dual detachable microphones
Volume limiter switch
High-fidelity speakers
Built-in CD case holder
Looking for a deal on a gift? Did you know that there is a website that will actually track prices for you? Trackif.com tracks prices for you all across the web and if an item you are looking for goes on sale, it will send you an email!
1. Sign up for a Trackif.com account
2. Enter the item you are searching for
3. Create a sale tracking alert
4. Anytime that item goes on sale (or the price goes up), you'll get an email notification
I just wanted to let you you all that I got the Elmo Adventure Pack in the mail yesterday!
I was pleasantly surprised with everything that it came with! I can't wait for the kids to see it!
Right now you can purchase 2 Elmo Adventure Storybook Learning Sets for only $7.95 (Reg $44.95) and if you order today you can get a FREE Elmo backpack! I'm sure your preschooler would love to show off an Elmo backpack at school :) I'm pretty sure that I've gotten rid of all my little preschool books, so I ordered these sets for Finley :)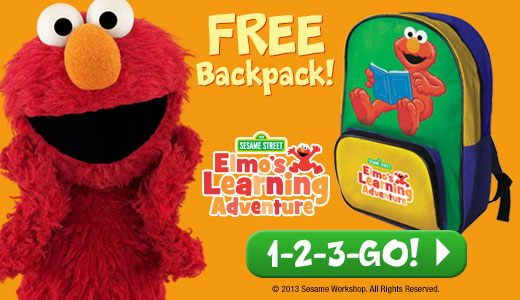 Each set includes:
Hardcover Storybook
Activity Book
6 Adventure Cards
Bookcase
Laminated storage box
9 divider cards.
Once you receive the Learning sets, you are free to cancel your membership without any further obligation!
Notes: Every 3 weeks you will be mailed 2 new Elmo Learning Adventure sets for $9.95 plus $4.95 shipping. These new books will be charged to your credit card. You can cancel your membership at anytime and can keep the backpack no matter what you decide.
Are you ready for another day of giveaways? Today you will be entering to win an envelope of coupons! We are gonna do things a little differently today, instead of run flash giveaways on Facebook, you will have multiple opportunities to enter by completing the tasks in the widget below!
10 Winners will be chosen tonight at 9pm and will be notified by email as well as announced in a blog post on this blog. Contest runs from 9am – 9pm EST on December 12, 2013.
Good Luck!
Grains, Pasta & Sides
Candle Cafe Organic Macaroni, 9 oz – $4.99
Near East Rice Pilaf, 6.09 oz – $1.66
Cookies, Snacks & Candy
Annie's Homegrown Cheddar Bunnies, 7.5 oz – $3.00
Back to Nature Fudge Stripped Cookies, 8.5 oz – $3.99
$1.00/1 Back To Nature, Any Product – Mambo Sprouts Fall 2013 – Manufacturer – (exp. 01/01/15)
Final Price: $2.99
Carr's Table Water Crackers, 4.25 oz – $3.00
Beverages
Knudsen Organic Cranberry Pomegranate Juice, 32 oz – $3.00
$1.00/1 R.W. Knudsen Juice Product, Any – Mambo Sprouts October Savings – Manufacturer – (exp. 01/01/14)
Final Price: $2.00
Sambazon Protein Beverage, 10.5 oz – $2.50
Final Price: $1.50
Frozen Foods
Three Twins Ice Cream, 15 oz – $3.99
Wow! BJ's Wholesale club is offering a spectacular deal through Groupon right now! You can get a 1 year BJ's Membership & a $25 Gift Card to use in-store for only $35.00! That's like getting the membership for only $10! Plus, you can use the $25 gift card on gas..so it's also like buying a membership and getting a tank of gas for FREE! This is a nationwide offer.
I imagine this offer will go quickly! Score one while you can!
The Deal
$35 for a one-year club membership and a $25 gift card (a $75 value)
One-year memberships include access to participating clubs in your city, as well as access to exclusive savings and in-club promotions. The gift card can be used toward both in-club purchases and BJ's gas.
Fine Print:
Expires Mar 31st, 2014. Limit 1 per person, may buy 2 additional as gifts. Limit 1 per visit. Valid in-store only. Not valid until 48 hours after purchase. New members only. Must be 18 or older. Must provide residential address and first and last name as you wish for it to appear on your membership card at checkout, which Groupon will provide to facilitate redemption. Valid only for the Atlanta locations listed. Not valid with other offers or discounts. Merchant is solely responsible to purchasers for the care and quality of the advertised goods and services. See the rules that apply to all deals.
Holy smokes, just when I thought I couldn't get anymore excited about the Ibotta mobile app..they've blown my mind yet again! Right now you can earn $10 cash back when you spend $100 at Best Buy!
$100 purchase can be made in one trip or over multiple trips. Offer is valid for in-store Best Buy purchases only and excludes Gift Card purchases.
This offer will go quickly! It expires on 12/14. So make sure you redeem it in your app and then upload your receipt quickly after purchase!
Not all items are available at each store.
Canned Goods & Soups
Libby's Canned Vegetables, 15 oz – $0.79
Final Price: $0.54
Progresso Recipe Starters – $0.50
$0.25/1 Progresso Recipe Starters Cooking Sauce, Any Can – 12-08-13 SS – Manufacturer – (exp. 02/02/14)
$1.00/4 Progresso Recipe Starters Cooking Sauce, Any Cans – 12-08-13 SS – Manufacturer – (exp. 02/02/14)
Final Price: Free
Condiments, Spice & Baking
Accent Flavor Enhancer, 6-ct package – $1.00
Final Price: Free
Beverages
Crystal Light, Drink Mix On the Go – $1.00
Final Price: Free
Home Supplies
DampRid Moisture Absorber – $1.00
$1.00/1 DampRid Moisture Absorber Product, Any (DND 5; Limit One Per Customer) – 08-25-13 SS – Manufacturer – (exp. 12/31/13)
$1.00/1 DampRid Moisture Absorber Product, any (DND) – 06-02-13 SS – Manufacturer – (exp. 12/31/13)
Final Price: Free
Personal Care
Efferdent Denture Tablets, 16 ct – $1.00
$1.00/1 Efferdent Product, Any – 11-10-13 SS – Manufacturer – (exp. 01/01/14)
Final Price: Free
Got2B, Dry Conditioner or Hair Taming Mist – $1.00
Final Price: Free
$1.00/1 L'Oreal Paris Eye Product, Any – 10-27-13 RP – Manufacturer – (exp. 12/22/13)
$1.00/1 L'Oreal Paris Eye Product, Any – 12-08-13 RP – Manufacturer – (exp. 02/02/14)
Final Price: Free
Nivea, Sun-Kissed Radiant Skin Lotion 8.4oz – $1.00
$1.00/1 Nivea Body Lotion, Any 6.8 – 21 Oz. – 11-24-13 RP – Manufacturer – (exp. 12/23/13)
$1.00/1 Nivea Body Lotion, Any 6.8 – 21 Oz. – 12-08-13 RP – Manufacturer – (exp. 01/06/14)
Final Price: Free